Play Piano Now!
€ 19,70
Il prezzo è variabile in funzione del cambio della valuta d'origine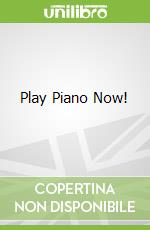 Informazioni bibliografiche

Titolo del Libro in lingua: Play Piano Now!
Sottotitolo: An Easy Beginning Method For Busy Adults
Lingua: English
Editore: Alfred Pub Co
Collana: Alfred Pub Co (Paperback)
Data di Pubblicazione: 30 Marzo '02
Peso gr: 507
Dimensioni mm: 292 x 234 x 12
ISBN-10: 0739014544
ISBN-13: 9780739014547
Play Piano Now! is for busy adults whose practice time is limited, and for adults without previous musical training. It is a slower-paced method that uses the same conceptual core of our original Adult Piano Course, but with several very important added features: more gradual introduction of music fundamentals, more pages of reinforcement and a greater emphasis on sight-reading exercises, one of the most important skills needed to ensure long-term enjoyment of the piano. Includes specially marked written exercises that can be completed away from the keyboard.