Willing Dogs & Reluctant Masters
€ 11,50
Il prezzo è variabile in funzione del cambio della valuta d'origine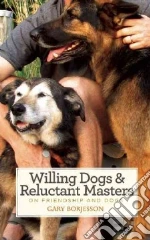 Informazioni bibliografiche

Titolo del Libro in lingua: Willing Dogs & Reluctant Masters
Sottotitolo: On Friendship and Dogs
Lingua: English

Autore

: Gary Borjesson
Editore: Consortium Book Sales & Dist
Data di Pubblicazione: 16 Ottobre '12
Pagine: 251
Dimensioni mm: 203 x 127 x 0
ISBN-10: 1589880765
ISBN-13: 9781589880764
Dogs are truly remarkable creatures. More than any other animal, they share with humans a deep interest in friendship, cooperation, and justice (perhaps that's why we love them so much). In Willing Dogs & Reluctant Masters, Gary Borjesson explores the source of?and justification for?our authority in the master dog relationship while inviting readers to ponder the role of authority in friendships among people as well.
Dog owners will find this book a joy, as will all readers who enjoy philosophically and scientifically informed books that treat big, fascinating ideas in an appealing narrative.
Gary Borjesson teaches at St. John's College.