What Is Luv?
€ 11,70
Il prezzo è variabile in funzione del cambio della valuta d'origine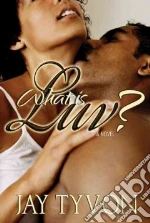 Informazioni bibliografiche

Titolo del Libro in lingua: What Is Luv?
Lingua: English

Autore

: Jay Tyvon
Editore: Lushena Books
Collana: Lushena Books (Paperback)
Data di Pubblicazione: 25 Marzo '08
Pagine: 385
Peso gr: 27
Dimensioni mm: 234 x 152 x 25
ISBN-10: 0979012309
ISBN-13: 9780979012303
Set in the bustling cities of Atlanta and Chicago, music executive Justin Vaughn is complacent with his life. Justin spends his time balancing climbing the ladder of success and weaving in and out of meaningless relationships, with more women than he could care to name, or count--until a tragedy occurs and Justin suddenly finds himself in a struggle with demons from his past and present.Dealing with the nagging shame of being an emotionally absent single father and the emptiness of his whorish existence, Justin attempts to turn his life around, only to be met with pitfalls, disappointments and at times, utter despair. Because of the tangled web Justin so often weaves, he ends up at rock bottom, before he can attempt to pull himself up out of darkness.What Is Luv? demonstrates that lives can be made anew with true love, friendship, trust, and most of all, patience.